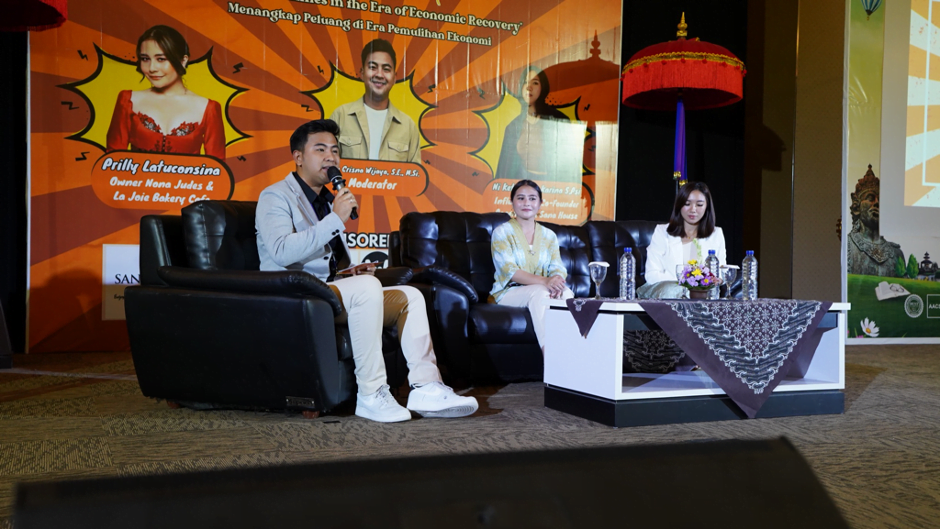 Seize Opportunities in the Era of Economic Recovery: Capturing Opportunities in the Era of Economic Recovery with the University of National Education
Posted by

Categories

News

Date

08-05-23
Denpasar – On Saturday, 6 May 2023, the Entrepreneurship Student Activity Unit (UKM) of the National University of Education held its 5th national talk show titled "Seize Opportunities in the Era of Economic Recovery: Capturing Opportunities in the Era of Economic Recovery". This event was held at the Dwi Tunggal Auditorium of the National Education University (Undiknas) and was attended by Undiknas students.
This talk show presents speakers who are experienced in entrepreneurship. Prilly Latuconsina, owner of Nona Judes and La Joie Bakery Cafe, and Ni Ketut Gita Karina S.Psi, founder of Paperhills, shared their experiences in facing challenges in entrepreneurship, as well as providing tips and strategies for seizing business opportunities in an era of economic recovery.
The moderator of the event, Gede Crisna Wijaya, S.E., M.Sc., started the event by discussing economic conditions which were in a recovery period but were still prone to being affected by a recession. Nevertheless, Gede invited Undiknas students to continue to innovate and dare to take business opportunities.
Prilly Latuconsina, one of the speakers, said that the era of economic recovery was the right moment to start a business. According to him, with the economic recovery, many new business opportunities will emerge. She also emphasized the importance of innovating and being creative in facing today's increasingly fierce business competition.
Gita Karina, known as the founder of Paperhills, and various other entrepreneurs also gave tips to Undiknas students to take business opportunities in the era of economic recovery. According to him, several things need to be considered in starting a business, such as seeking inspiration from the surrounding environment, utilizing existing technology, and developing products or services that are different from what already exists.
This #5 national talk show events provided a lot of inspiration and motivation for Undiknas students to start a business in the era of economic recovery. We hope that holding this national talk show will be of benefit to students in developing their creativity and innovation in the business world.